What are the differences between the MaxBP Original and Pro?
Wondering how the MaxBP pitching machine models are different? We've worked up this handy chart to illustrate the differences in features and functionalities.
Our MaxBP Pro pitching machine is best suited for advanced hitters and teams looking for a full-featured hitting tool. The MaxBP Original pitching machine is great for mid-level teams and hitters looking to grow their contact consistency.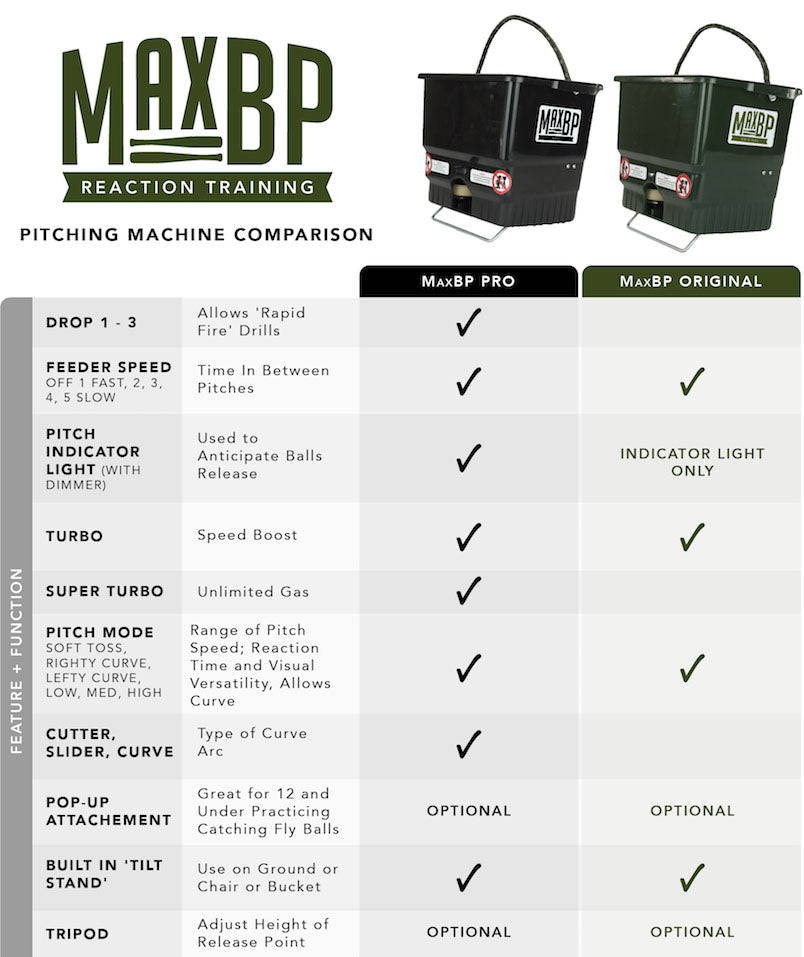 How do I unsubscribe from the MaxBP mailing list?
We are sorry to see you go, but if you would like to stop receiving email updates from MaxBP, please submit a request here: https://contact.maxbp.com/
What happened to the Sandlot Slugger and the MaxBP Junior machines?
It hasn't gone anywhere! In 2016 we changed the name of our Sandlot Slugger pitching machine to the MaxBP Junior as a part of our new brand. Don't worry though, the MaxBP Junior has all the same features and durability as the Sandlot Slugger. Any chargers or accessories you have for the Sandlot Slugger will work on MaxBP Junior.
*UPDATE: As of August 2018 the Junior has been discontinued. If you need support with an existing Sandlot Slugger or MaxBP Junior purchase submit a request here: https://contact.maxbp.com/
What happened to HeavySwing? Is HeavySwing a part of MaxBP now?
HeavySwing was purchased by MaxBP in 2021. We still offer their latest line of HeavyBats, HeavySwing, and HeavyBalls. These bats are a perfect combo with MaxBP to get the "Heavy" work in, via the Light/Heavy/Game sequence.
I have a question not covered on this page. How do I contact the MaxBP support team?
If you have a question we haven't covered, you can contact our Support Team through web form or chat:
Complete this form to contact our team via email: https://contact.maxbp.com/
Click the blue "Chat" tab in the lower right corner of your screen on any page of our site
We're here to help and make your experience the best one possible. Don't hesitate to let us know how we can help.